This week's challenge has been set by our talented Guest Designer
Paula
from
Mini Book Pixie
blog who says:
"
I love patterened paper very much but it is far too easy to whack on cards etc. So for my theme, I want to see handmade backgrounds. Get those fingers inky & painted & make a custom piece of paper/card for your design"
This weeks prize
This challenge is Sponsored by The Artistic Stamper and look at the fantastic prize that is on offer this week: The stamps are deep etched red rubber, The Artistic stamper also manufacture Kling-On plus have loads of accessories including the chipboard shapes embossing powders and all sorts of lovely scrummy stash to play with so pop on over and take a look at their shop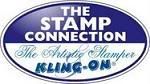 Here is
Paula's
stunning creation followed by a description of how she made it
"Mine is made with distress inks. I love all aspects of crafting but am moving more towards mixed media as I love mixing up different mediums & rubber stamping my designs. Though I will never give up my coveted Basic Grey papers, I do like to make my own backgrounds as it feels more like my design. Paula"
Crissi's
(better pics on my blog )
Julie's
- see blog for close ups