Thank you to everyone who joined in with last weeks challenge ~
Rainbow Lady
was randomly selected and wins the prize ~ Congratulations Cynthia please contact us with your address :)
This weeks challenge is Era's so you could be inspired by the chic 20's glamourous 30's the war year's of the 40's, 50's Rock & Roll , psychedelic 60's or the flower power 70's you get the idea..... any era you like it is entirely up to you.
As always you choose your format so you could make Atc's, Cards, Layouts , Mixed Media , Altered art..... anything you like.
This challenge is sponsored by
The Artistic Stamper
and they have supplied a Fab prize for one person to win ~ this fabulous sheet of unmounted stamps
The stamps are deep etched red rubber and The Artistic stamper also manufacture Kling-On plus have loads of great craft accessories so click the banner to go to their shop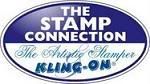 Jennie from The Artistic Stamper is also our guest designer for this challenge and also sent us a set of the stamps to use in our examples ~ Thanks Jennie
Here's a short bio from Jennie

I have been crafting ever since I can remember, and trained originally as a jeweller, but discovered rubberstamps in about 1991, and have been manufacturing them ever since!

This is what we made